SUMMARY
During Trump's first year in office, guns were used to kill 39,773 Americans. After numerous mass shootings, while Trump claimed that 'we cannot let those killed […] die in vain,' he failed to act on the issue of gun violence
As a candidate and as president, Trump expressed support for background checks. However, the president changed his mind numerous times, embracing stronger background checks only to threaten to veto legislation that would do just that.
Trump signed legislation that made it easier for severely mentally ill individuals to purchase firearms. The action walked back a rule that could have reduced gun violence by keeping guns out of the hands of individuals considered mentally disabled.
After calls for extreme risk protection orders, Trump stated that law enforcement should 'take the guns first, go through due process second'
The Trump Department of Justice, issued a memo narrowing the definition for "fugitives from justice," allowing criminals with outstanding warrants to purchase guns, as long as they have not fled the state in which the warrant was issued.
In his 2000 book, 'The America We Deserve' Trump expressed support for banning assault weapons. However, since he declared his candidacy in 2015, Trump has opposed a ban on the weapons, claiming that there was no political appetite for such legislation.
Following the February 2018 mass shooting in Parkland, Florida, Trump proposed an age limit for purchasing guns. However, he soon walked back his proposal.
Additionally, following the Parkland shooting, Trump sewed confusion on where the administration stood regarding allowing teachers to carry weapons; however, a majority of U.S. educators opposed the idea of arming teachers and staff.
During The First Year Of Trump's Presidency, Guns Killed 39,773 Americans. According to USA Today, "When President Donald Trump invoked the term "American carnage" in his inaugural address, he wasn't referring to gun violence, but the label undeniably fits: Record numbers of Americans are killing themselves or each other with firearms. During the first year of Trump's presidency, guns were used to kill 39,773 Americans, the greatest number of such deaths since the government began tracking them in 1979, according to a recent report from federal health officials. Suicides made up more than half the total." [USA Today, 1/3/19]
[USA Today, 1/3/19]
By The End Of 2019, There Were 417 Mass Shootings In The United States. According to CBS News, "By the end of 2019, there were 417 mass shootings in the U.S., according to data from the nonprofit Gun Violence Archive (GVA), which tracks every mass shooting in the country. Thirty-one of those shootings were mass murders. GVA defines a mass shooting as any incident in which at least four people are shot, excluding the shooter. The group also tracks mass murders as defined by the FBI — incidents in which at least four people are killed. The FBI does not have a formal definition of a mass shooting." [CBS News, 1/2/20]
Four Of The Worst Mass Shootings In U.S. History Since 1991 Occurred While Trump Was In Office.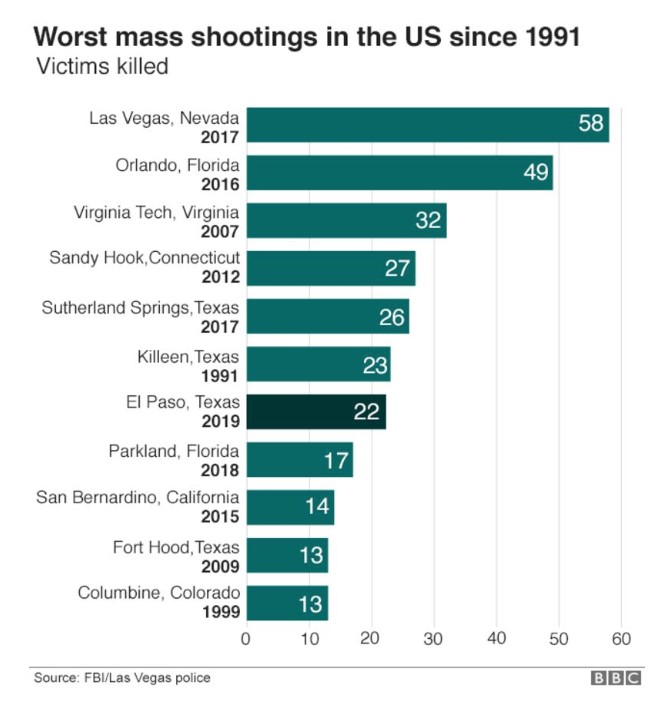 [BBC, 11/11/19]
¶ Trump Went Back-And-Forth On The Effectiveness Of Background Checks Failing To Implement Any Consequential Laws
Trump, 2015: "Very Few Criminals Are Stupid Enough To Try And Pass A Background Check – They Get Their Guns From Friends/Family Members Or By Stealing Them." According to Donald Trump campaign, "Study after study has shown that very few criminals are stupid enough to try and pass a background check – they get their guns from friends/family members or by stealing them. So the overwhelming majority of people who go through background checks are law-abiding gun owners." [Donald Trump Campaign, 2015]
Trump, 2015: "Too Many States Are Failing To Put Criminal And Mental Health Records" Into Background Check System. According to Donald Trump campaign, "Too many states are failing to put criminal and mental health records into the system – and it should go without saying that a system's only going to be as effective as the records that are put into it. What we need to do is fix the system we have and make it work as intended. What we don't need to do is expand a broken system." [Donald Trump Campaign, 2015]
Trump, 2015: "The Current Background Checks Do Not Work." According to an interview with Ammoland, Donald Trump said, "I do not support expanding background checks. The current background checks do not work. They make it more difficult for law abiding citizens to acquire firearms while consistently failing to stop criminals from getting guns. We should re-examine our policy to make sure that these prohibitions do not impede law abiding citizens from exercising their Second Amendment rights." [Ammoland, 7/7/15]
¶ As A Candidate, Trump Promised To "Unsign" Obama Executive Action To Expand Background Checks
Trump On Possible Obama Executive Order About Guns, 2016: "I Will Veto. I Will Unsign That So Fast." According to CNN, "Donald Trump on Saturday vowed to 'unsign' President Barack Obama's plans to tighten gun control via executive action, telling a packed rally in Biloxi, Mississippi, that he would protect the right to bear arms. 'There's an assault on the Second Amendment. You know Obama's going to do an executive order and really knock the hell out of it,' Trump said. 'You know, the system's supposed to be you get the Democrats, you get the Republicans, and you make deals. He can't do that. He can't do that. So he's going to sign another executive order having to do with the Second Amendment, having to do with guns. I will veto. I will unsign that so fast.'" [CNN, 1/2/16]
¶ February 2018: In Wake Of Parkland Shooting Trump Stated That He Was 'Going To Be Very Strong On Background Checks'
February 21, 2018: During A Listening Session With Teachers And Students Following The Mass Shooting In Parkland, Florida, Trump Stated That 'We're Going To Be Very Strong On Background Checks.' According to the White House, "THE PRESIDENT: Thank you very much, Betsy. And I just want to say before we really begin — because I want to hear your input — we're going to be very strong on background checks. We're going to be doing very strong background checks.Very strong emphasis on the mental health of somebody. And we are going to do plenty of other things. Again, next week, the governors are coming in from most of the states, and we're going to have a very serious talk about what's going on with school safety. Very important. And we're going to cover every aspect of it. There are many ideas that I have." [White House, 2/22/18]
February 28, 2018: Trump Claimed To Have Stood Up To The NRA And Stated He Would Pass Background Check Legislation. According to the White House, "Fourth, we have to pursue commonsense measures that protect the rights of law-abiding Americans while keeping guns. And we have to keep the guns out of the hands of those that pose the threat. And this really includes background checks. And I know, Senator, that you're working on things. Joe, I know you're working. And, I mean, I'm looking at a number of the folks around the table, and you're working on different bills. We have to get them done. We have to get them done. And they have to be strong. The background checks — hey, look, I'm the biggest fan of the Second Amendment. Many of you are. I'm a big fan of the NRA. But I had lunch with them — with Wayne and Chris and David, on Sunday — and said, "It's time." We got to stop this nonsense. It's time." [White House, 2/28/19]
¶ August 2019: After Dayton and El Paso Shootings, Trump Promised Background Checks And To Consider Red Flag Laws
August, 2019: Trump Promised Push For Gun Control Laws After Dayton And El Paso Shootings. According to Washington Post, "The White House's position is a marked, if not wholly unexpected, change from when the president vowed he would make a push to pass more restrictive laws after two gunmen killed scores of people in Dayton, Ohio, and El Paso in early August, creating national outrage." [Washington Post, 11/1/19]
Trump Said, "I Think We Can Do Meaningful — Very Meaningful Background Checks. I Want To See It Happen." According to a transcript of Trump's Remarks Before Marine One Departure On August 9, 2019, "THE PRESIDENT: I think, in the end — I think, in the end, Wayne and the NRA will either be there or maybe will be a little bit more neutral, and that would be okay, too. Look — look, the NRA has, over the years, taken a very, very tough stance on everything, and I understand it. You know, it's a slippery slope. They think you'll prove one thing, and that leads to a lot of bad things. I don't agree with that. I think we can do meaningful — very meaningful background checks. I want to see it happen." [White House, 8/9/19]
August, 2019: Domestic Policy Council Staff Began Crafting Plan For September Release. According to Washington Post, "In August, Domestic Policy Council staffers began to craft a plan that was set to be released in early September. There were meetings on a communications strategy for releasing the plan, according to a person who attended the sessions." [Washington Post, 11/1/19]
¶ By November 2019 Trump Had Abandoned His PRomises ANd Even Threatened To Veto Bills Expanding Background Checks
November, 2019: Trump Abandoned Idea Of Releasing Proposals To Combat Gun Violence. According to the Washington Post, "President Trump has abandoned the idea of releasing proposals to combat gun violence that his White House debated for months following mass shootings in August, according to White House officials and lawmakers, a reversal from the summer when the president insisted he would offer policies to curb firearm deaths." [Washington Post, 11/1/19]
Aides For Domestic Policy Council, Who Had Worked On Plan, Moved On To New Topics. According to the Washington Post, "The president no longer asks about the issue, and aides from the Domestic Policy Council, once working on a plan with eight to 12 tenets, have moved on to other topics, according to aides who spoke on the condition of anonymity to describe the private deliberations." [Washington Post, 11/1/19]
November, 2019: White House Aides Said No "Substantive Discussions" Were Had In "Weeks." According to the Washington Post, "Four White House officials said there haven't been substantive discussions in weeks. And a person close to the National Rifle Association said discussions between the White House and the group have gone silent in a sign that the powerful gun lobby is no longer concerned the White House will act. Trump was pressed repeatedly by NRA President Wayne LaPierre this summer and early fall to not propose any gun-control measures." [Washington Post, 11/1/19]
¶ February 2020: Trump Threatened To Veto Two House Bills Expanding Background Checks
Trump Threatened To Veto Two Bills Expanding Federal Background Checks On Gun Purchases. According to the Associated Press, "President Donald Trump is threatening to veto two Democratic bills expanding federal background checks on gun purchases, saying they do not sufficiently protect gun owners' Second Amendment rights. The House is expected to vote this week on separate bills requiring background checks for all sales and transfers of firearms and extending the background-check review from three to 10 days […] The other bill, extending the review period for a background check, 'would unduly impose burdensome delays on individuals seeking to purchase a firearm,' the White House said." [Associated Press, 2/26/20]
Democrats Accused Trump Of Hypocrisy Noting That He Advocated For Strengthening Background Checks Following The Mass Shooting In Parkland, Florida. According to the Associated Press, "Democrats accused Trump of hypocrisy, noting that Trump advocated for strengthening background checks after 17 people were shot and killed at a Florida high school a year ago. At a meeting with survivors and family members of the Parkland, Florida shooting, Trump promised to be 'very strong on background checks.' And he suggested he supported allowing some teachers and other school employees to carry concealed weapons to be ready for intruders. A week later, during a televised meeting with lawmakers at the White House, Trump wagged his finger at a Republican senator and scolded him for being 'afraid of the NRA.' The president declared that he would stand up to the gun lobby and finally get results in quelling gun violence." [Associated Press, 2/26/20]
February 2017: Trump Signed A Law Repealing A Rule Requiring The Social Security Administration To Report Those Who Have A Mental Health Condition To The FBI's National Instant Criminal Background Check System. According to the NBC, "President Donald Trump quietly signed a bill into law Tuesday rolling back an Obama-era regulation that made it harder for people with mental illnesses to purchase a gun. The rule, which was finalized in December, added people receiving Social Security checks for mental illnesses and people deemed unfit to handle their own financial affairs to the national background check database. Had the rule fully taken effect, the Obama administration predicted it would have added about 75,000 names to that database." [NBC News, 2/28/17]
The Rule Prevented People With Severe Mental Disorders Like Schizophrenia From Owning Guns. According to the Hill, "Supporters of the rule said the step was necessary to keep guns away from people with mental disorders like schizophrenia and severe anxiety. Rep. Elizabeth Esty (D-Conn.) accused Republicans of weakening the background check system. 'The House charged ahead with an extreme, hastily written, one-sided measure that would make the American people less safe,' she said. Under the rule, which is set to take force in December, the Social Security Administration (SSA) rule would report disability recipients with severe mental disorders to the FBI's National Instant Criminal Background Check System. People entered into the system would be able to apply for relief from the SSA, but not until after their names were sent to the FBI. They would also be able to appeal in court." [The Hill, 2/2/17]
¶ Keeping Guns Out Of The Hands Of Individuals Considered Mentally Disabled By The SSA Could Help Reduce Gun Violence
USA Today Editorial: Many Of The Young Men Responsible For Some Of The Worst Massacres In Recent Years Have Suffered From Severe Mental Problems. According to an editorial in USA Today, "But it is also true that many of the young men responsible for some of the worst massacres in recent years have suffered from severe mental problems, including Seung Hui Cho, who killed 32 at Virginia Tech; Jared Loughner, killer of six at a Tucson shopping mall; and James Holmes, who killed 12 in a movie theater in Aurora, Colo." [Editorial – USA Today, 2/20/17]
A Mother Jones Analysis Of 85 Mass Shooting From 1982-2017 Found That More Than Half Of The Shooters Evidenced Prior Signs Of Possible Mental Health Problems. According to Mother Jones, "This dataset originally covered 1982-2012 and has since been expanded through 2017. For more context and analysis, see our Guide to Mass Shootings in America." The analysis covered 85 mass shootings with 48 shooters identified as having had prior signs of mental illness. [Mother Jones, updated 1/8/17]
Minnesota Department Of Corrections Director Of Research And Evaluation Grant Duwe Analyzed 160 Mass Public Shootings Between 1915-2013, Finding That A Minimum Of 61% Involved Shooters Who Had Either Been Diagnosed With Or Showed Signs Of A Serious Mental Illness. According to CNN, "Grant Duwe, director of research and evaluation at the Minnesota Department of Corrections, compiled his own numbers for mass public shootings, finding 160 cases between 1915-2013. Of those, 97 involved shooters who had either been diagnosed with a serious mental illness, or showed signs of one. 'The 61% is actually a minimum estimate,' said Duwe, who is also author of the book 'Mass Murder in the United States: A History.'" [CNN, 7/24/15]
Trump: 'Take The Guns First, Go Through Due Process Second.' According to the Hill, "President Trump on Wednesday voiced support for confiscating guns from certain individuals deemed to be dangerous, even if it violates due process rights. 'I like taking the guns early, like in this crazy man's case that just took place in Florida ... to go to court would have taken a long time,' Trump said at a meeting with lawmakers on school safety and gun violence. 'Take the guns first, go through due process second,' Trump said." [The Hill, 2/28/18]
Trump's Comment About 'This Crazy Man' Referred To Nikolas Cruz, The Student Behind The February 14, 2018 Shooting In Parkland Florida; Cruz Was Able To Legally Purchase The AR-15 He Used In The Shooting. According to the Hill, "Trump met with lawmakers on Wednesday to discuss gun laws and school safety in the aftermath of a Feb. 14 shooting at a high school in Parkland, Fla., that left 17 people dead. The suspected shooter, Nikolas Cruz, was able to legally purchase the AR-15 reportedly used in the shooting despite numerous calls to law enforcement about his unstable behavior." [The Hill, 2/28/18]
March 2017: The Trump Justice Department Issued A Memo Narrowing The Definition Of A 'Fugitive From Justice,' Only Blocking Gun Sales To People Who Have Fled The State Where Their Arrest Warrant Was Issued. According to Think Progress, "The DOJ move was first reported by the Trace, which obtained a copy this week of the memo that lays out how the government will define who qualifies as a 'fugitive from justice' when it comes to the possession of guns. Under the new rule, the FBI — the group that maintains the background check system — will only be allowed to block gun sales to people who have fled the state where their arrest warrant was issued. Previously, the FBI and the Bureau of Alcohol, Tobacco, Firearms, and Explosives (ATF) disagreed on how to interpret the Brady Act of 1993. The FBI took it to mean that anyone with an outstanding warrant should be blocked from a gun sale, while the ATF interpreted the law to mean it should only block gun sales to anyone who has left the state of their warrant." [Think Progress, 3/9/17]
From 1998 To February 2017, The FBI Denied More Than 175,000 Gun Sales Due To An Outstanding Warrant. According to the Trace, "From November 1998 to February 2017, the FBI denied more than 175,000 sales because the would-be purchaser had an outstanding warrant — second only to the total barred by convictions for felonies or serious misdemeanors. According to an audit last year by the department's Office of the Inspector General, the ATF disagreed with roughly a third of those rejections. The new rule means that the FBI will block fewer sales to people with outstanding arrest warrants." [The Trace, 3/7/17]
Although The Revision Had Been In Effect For Six Months, There Was An 80 Percent Decline In The Number Of Gun Sales Denied Due To The 'Fugitive From Justice' Classification Compared To The Same Period In 2016. According to the Atlanta Journal-Constitution, "Although the revision has only been in effect for six months, there has already been a noticeable dip in the number of gun sales denied because the potential buyer was a 'fugitive from justice.' According to NICS data, there was an 80 percent decline, compared to the same period in 2016. 'We're very concerned this new policy means that officials will frequently be unable to block gun sales to people who are on the run from the law and trying to get armed,' said William Rosen, deputy legal director of advocacy group Everytown for Gun Safety. 'It appears to be already happening.' The FBI records show that 518,670 names have been removed from the nationwide background check database, meaning those individuals would not automatically be banned from obtaining a gun." [Atlanta Journal-Constitution, 10/10/17]
2000: In His Book 'The America We Deserve' Trump Embraced A Ban On Assault Weapons. According to ABC News, "In his 2000 book 'The America We Deserve' Trump seemed to take a different stance. 'I generally oppose gun control, but I support the ban on assault weapons and I also support a slightly longer waiting period to purchase a gun,' he said. 'With today's Internet technology we should be able to tell within seventy-two hours if a potential gun owner has a record.'" [ABC News, 9/18/15]
¶ As A Candidate, Trump Stated That He Opposed An Assault Weapons Ban
Trump, 2015: "The AR-15 Does Not Fall Under This Category" Of Assault Weapons. According to an interview with Ammoland, Donald Trump said, "I certainly stand by my opposition to Gun Control when it comes to taking guns from law-abiding citizens. You mention that the media describes the AR-15 as an 'assault rifle,' which is one example of the many distortions they use to sell their agenda. However, the AR-15 does not fall under this category. Gun-banners are unfortunately preoccupied with the AR-15, magazine capacity, grips, and other aesthetics, precisely because of its popularity." [Ammoland, 7/7/15]
Trump, 2015: "To The Left Every Gun Is An Assault Weapon." According to an interview with Ammoland, Donald Trump said, "To the Left every gun is an assault weapon." [Ammoland, 7/7/15]
Trump, 2015: "Gun Control Does Not Reduce Crime. It Has Consistently Failed To Stop Violence." According to an interview with Ammoland, Donald Trump said, "Gun control does not reduce crime. It has consistently failed to stop violence. Americans are entitled to protect their families, their property and themselves. In fact, in right-to-carry states the violent crime rate is 24% lower than the rest of the United States and the murder rate is 28% lower. This should not be up for debate." [Ammoland, 7/7/15]
Trump Said His Support Of The Second Amendment "Does Extend To Assault Rifles." Interview. Lonsberry: You, sir, have spoken forcefully and repeatedly about your support of the Second Amendment. Does that extend to like say assault rifles? Are assault rifles okay? Trump: Yes it does. Lonsberry: Excellent. Trump: It does extend to assault rifles. And it's, I mean, again Second Amendment – I talked about Los Angeles – the recent tragedy where the 14 people were killed. I take a look at Paris, and Paris has the strongest gun laws in the world, or just about. I mean you can't have a gun in Paris. 130 people were killed. Many people so badly wounded right now, in hospital, and it's terrible. And frankly, if some of those people on the other side, if the bullets were going in the opposite direction, it would have been a much different story. So, I'm a big protector as you know, and I'm a member of the NRA and my sons are members for a long time. They're hunters, much more so than I am. I haven't had time. But the Second Amendment is going to be absolutely taken care of by me. It'll be very very safe, believe me. And everyone knows that. [WHAM's Bob Lonsberry: 160414_ARB_282, 4/14/16]
August 2019: Trump Claimed That There Was 'No Political Appetite' For Banning Assault-Style Weapons. According to Morning Consult, "President Donald Trump on Wednesday downplayed the public support for banning assault-style weapons like the ones used in the deadly mass shootings in El Paso, Texas, and Dayton, Ohio, over the weekend. 'You could do your own polling,' he told reporters before leaving Washington to visit both cities. 'There's no political appetite, probably, from the standpoint of legislature.'" [Morning Consult, 8/7/19]
Trump Avoided Calls For An Assault Weapons Ban And Instead Claimed That 'A Sick Mind' Pulls The Trigger, Not The Gun. According to WRBL, "Repeatedly this week, the President has pushed for expanded background checks, but stayed away from calls for an assault weapons ban. 'The gun doesn't pull the trigger. A mind, a sick mind pulls the trigger,' President Trump said." [WRBL, 8/12/19]
Morning Consult/Politico Poll Revealed That There Was Broad Support For An Assault Weapons Ban, Including 64 Percent Of GOP Women. According to the Morning Consult, "But a new Morning Consult/Politico poll found broad support for such a ban. Seven in 10 voters, including 54 percent of Republicans, said they support a ban on assault-style weapons, according to the Aug. 5-7 survey — and even greater shares backed other provisions such as banning the sale of high-capacity ammunition magazines, requiring a person to be 21 or older in order to purchase a gun and imposing a 3-day waiting period to take a gun home. Support among Republicans for a series of gun control measures tested in the poll was largely driven by women. On the question of assault-style weapons, 64 percent of women in the party support a ban, while men were divided. [Morning Consult, 8/7/19]
February 2018: After Mass Shooting In Parkland, Florida, Trump Expressed Support For Raising The Age Limit For Buying Guns
February 2018: After The Mass Shooting In Parkland, Florida, President Trump Expressed Support for Raising The Age Limit For Buying Guns. According to the Washington Times, "During the meeting, Mr. Trump expressed support for raising the legal age for purchasing a firearm and for arming educators or other adults at schools with proper training, although he acknowledged that the idea is controversial […] Among other suggestions for the president were raising the legal age to purchase a firearm from 18 to 21, banning assault rifles and requiring schools to conduct active-shooter drills. The president said he intends to go 'very strong' on raising the age limit. 'Thank you for pouring out your hearts, because the world is watching and we're going to come up with a solution,' the president said." [Washington Post, 2/22/18]
March 2018: Trump Tweeted That There Was Not Much Political Support For Raising The Minimum Age On Weapons Sale.
[Twitter, 3/12/18]
March 2018: White House Claimed It's Still Weighing Age Restrictions For Some Guns. According to Politico, "President Donald Trump has not closed the door on raising the age at which Americans are allowed to buy certain firearms, White House press secretary Sarah Huckabee Sanders insisted on Monday afternoon, hours after the president himself seemed to do just that, conceding that there is "not much political support" for such a move. "Right now the president's primary focus is on pushing through things that we know have broad bipartisan support or things that we can do from an administrative perspective that we can do immediately, but we haven't let go of some of those other things that we're going to continue to review and look at," Sanders told reporters near the top of her Monday press briefing. She said Trump still supported raising the age limit for the purchase of certain guns, whether done at the federal level or on a state-by-state basis, but could not institute such a policy on his own […] 'I'm saying that the president is pushing forward on things that we know have broad-base support and that we can immediately get done, while at the same time we're looking at the best way forward to push these other things through, whether it's on a state level, whether it's on a federal level.'" [Politico, 3/12/18]
After Listening To Emotional Stories And Pleas For Enhanced School Safety, Trump Suggested Arming Teachers As A Solution. According to CNN, "President Donald Trump, after listening to a series of emotional stories and pleas to enhance school safety at the White House Wednesday, floated the idea of arming teachers and school staff, an idea that was met with support from many of the attendees. 'If you had a teacher who was adept with the firearm, they could end the attack very quickly,' he said, stating that schools could arm up to 20% of their teachers to stop 'maniacs' who may try and attack them." [CNN, 2/22/20]
Trump Tweeted The Day After His Listening Session That He Never Said He Would 'Give Teachers Guns.'
[Twitter, 2/22/18]
President Trump's Federal Commission On School Safety Suggested That Schools Should Consider Personnel To Improve Safety. According to ABC News, "The 177-page assessment, led by the U.S. Education Department, was commissioned by Trump following the February killing of 17 people at Marjory Stoneman Douglas High School. While the assessment contains nearly 100 recommendations, it does not address the key demands for gun control made by school shooting victims and students of the Parkland, Florida high school, whose activism sparked protests nationwide this spring and summer […] 'It's critical to have armed personnel available at a moment's notice,' Trump said. 'These are people -- teachers in many cases -- that are the highest trained that you can get. People that are natural to firearms ... This is critical to the hardening of our schools against attack.'" [ABC News, 12/18/18]
The Report Called For Equipping 'Highly Trained School Personnel' With Firearms To Protect Students. According to ABC News, "One of Trump's key proposals after the Parkland school shooting was arming teachers -- but there was significant pushback from educators, parents and some lawmakers. Instead, the report provides guidelines for schools who may wish to equip 'highly trained school personnel' with firearms to protect students in the event of a shooting -- including teachers, custodians and extracurricular staff. Officials were insistent that there is no recommendation involving using federal funds to 'arm teachers.'" [ABC News, 12/18/18]
¶ Trump's Education Secretary Stated She Would Not Stand In The Way Of States That Wanted To Use Federal Education Grants To Buy Guns
DeVos Refused To Block States From Using Federal Grants To Buy Guns For Schools. According to Politico, "DeVos announced last year that she would not stand in the way of states that wanted to use federal education grants to buy guns after Democrats implored her to prohibit such purchases. She said at the time that 'Congress did not authorize me or the Department to make those decisions.' President Donald Trump had touted the idea of training and arming teachers after 17 people were slain at Marjory Stoneman Douglas High School in Parkland, Fla. But on Wednesday, Hayes grilled DeVos over the internal department memo that said the secretary did have the power to bar her agency's funding from being used to buy guns. DeVos in response said that federal grants to states for student support services under Title IV of the Every Student Succeeds Act require states decide how to use those funds. 'We have totally respected that particular setup," she said. "We have not advocated for or against.'" [Politico, 4/10/19]
¶ An Overwhelming majority of educators opposed arming teachers and staff in school buildings
¶ Gallup Poll Taken After The Parkland Shooting Found That 73 Percent Of Educators In The U.S. Oppose Arming Teachers And Staff In Schools
Gallup Poll: 73 Percent Of U.S. Educators Opposed The Idea Of Arming Teachers And Staff In School Buildings. According to CNBC, "Nearly three-quarters (73 percent) of U.S. educators said they oppose the idea of arming teachers and staff in school buildings, according to a Gallup survey in March of 497 adults who teach students from kindergarten through the 12th grade." [CNBC, 3/16/18]
Gallup Poll: More Than 80 Percent Of Educators Poll Said They Would Not Train To Be Able To Wield A Firearm If Presented The Option. According to CNBC, "More than 80 percent said they would not train to be able to wield a firearm if their school presented the option to do so." [CNBC, 3/16/18]
Gallup Poll: More Than Half Of Teachers Said That Arming Staff Members Would Make Schools More Dangerous. According to CNBC, "More than half of teachers say arming staff members would make schools more dangerous. Just this week, a California teacher's gun accidentally went off in class and three students were injured. However, 20 percent of teachers support the idea of arming staff members and 18 percent would undergo special training to carry a firearm at school." [CNBC, 3/16/18]