Summary:
In a letter sent to the Department of Justice on October 11, Senate Judiciary Democrats raised concerns about SCOTUS nominee Amy Coney Barrett's lack of transparency, including controversial omissions on her Senate questionnaire. In their letter, the SJC Democrats implored to the Justice Department to "immediately provide an explanation for the omission" and to "provide any other responsible materials that have not been disclosed by Judge Barrett." Barrett's confirmation hearing began on October 12, 2020.
Barrett failed to disclose two talks she gave on Roe v. Wade that were hosted by two anti-abortion student groups at Notre Dame, Right to Life club and the Jus Vitae club respectively. It is not known what Barrett said in the two talks but Senate Judiciary Democrats criticized her for only disclosing them when they were reported by the press.
Additionally, Barrett also failed to fully disclose an anti-abortion ad she signed in 2006 on behalf of the St. Joseph County Right To Life. The ad states that "we…oppose abortion on demand and defend the right to life from fertilization to natural death." Following those reports, Barrett disclosed a similar anti-abortion ad she signed during her time as a member of Faculty to Life that "Reaffirm[ed] our full support for our University's commitment to the right to life." Senate Judiciary Democrats admonished her for not including the 2006 ad in supplement and asked for all materials related to the groups she did not disclose at the 2017 hearing.
Likewise, Barrett's Senate questionnaire did not include her time as lead attorney for a Pittsburgh steel magnate that was accused of driving a major Pennsylvania hospital system into bankruptcy. Despite working on the case for at least a quarter of her career as a practicing attorney, Barrett did not disclose the case, which involved one of the largest nonprofit bankruptcies in U.S. History. Barrett's omission prompted criticism over her lack of transparency during an already rushed confirmation process.
Sen. Judiciary Democrats: Barrett's Lack Of Transparency 'Raise Serious Concerns About [Her] Rushed Confirmation Process.' According to the letter, "These new omissions raise more questions about the reliability of Judge Barrett's SJQ and her candor before the Committee. These new omissions also raise serious concerns about Judge Barrett's rushed confirmation process and the hasty process of collecting materials responsive to the SJQ. Please immediately provide an explanation for the omission of these materials and please provide any other responsive materials that have not been disclosed by Judge Barrett." [Senate Judiciary Democrats Letter, 10/11/20]
¶ Barrett Failed To Disclose Talks On Roe V. Wade Hosted By Anti-Abortion Groups And Did Not Fully Disclose An Advertisement She Signed Opposing Abortion
In 2013 Barrett Gave Two Talks Hosted By Anti-Abortion Student Groups At Notre Dame, Right To Life Club And Jus Vitae Club, That She Failed To Disclose. According to CNN, "Judge Amy Coney Barrett initially failed to disclose two talks she gave in 2013 hosted by two anti-abortion student groups on paperwork provided to the Senate ahead of her confirmation hearing to become the next Supreme Court justice. Barrett, President Donald Trump's nominee to succeed Justice Ruth Bader Ginsburg, gave the talks -- a lecture and a seminar -- in 2013 in her capacity as a law professor at the University of Notre Dame. The seminar was co-sponsored by the school's Right to Life club and constitutional studies minor, and the lecture was held by the law school's Jus Vitae club. CNN's KFile found advertisements for two lectures on social media and in a weekly Notre Dame faculty newsletter." [CNN, 10/9/20]
Hours After CNN Published Story, The Talks Were Added To A Supplemental Update To The Senate Judiciary Questionnaire. According to CNN, "Late on Friday night, hours after this story published, the Senate Judiciary Committee released a supplemental update to Barrett's committee questionnaire that includes the lecture and seminar, as well as a paid advertisement she signed that criticized Roe v. Wade and reaffirmed support for Notre Dame's "commitment to the right to life." The release came after CNN asked the White House about the advertisement earlier on Friday." [CNN, 10/9/20]
It Was Still Unknown What Barrett Said At The Events But They Were Both Publicized As Related To Roe V. Wade. According to CNN, "It is not known what was said in the two events, though both centered on abortion court cases. In a separate instance, CNN's KFile found a publicized talk that Barrett gave to coincide with the 40th anniversary of Roe v. Wade -- a seminar Barrett disclosed in her Senate paperwork -- was removed by the university from YouTube in 2014. A school spokesman told CNN the video is now lost." [CNN, 10/9/20]
Feinstein: "It Is Troubling That Judge Barrett Supplemented Her SJQ To Include These Talks Only After They Were Identified By The Press." According to letter, "First, Judge Barrett's SJQ supplement includes two 2013 talks – a lecture and a seminar – about the Supreme Court's cases on women's reproductive rights. Both talks, which were also omitted from Judge Barrett's 2017 SJQ and attachments, were made public in press reports early yesterday. It is troubling that Judge Barrett supplemented her SJQ to include these talks only after they were identified by the press." [Senate Judiciary Democrats Letter, 10/11/20]
The Guardian Reported An Anti-Abortion Advertisement Signed By Barrett And Her Husband In 2006 On Behalf Of St. Joseph County Right To Life. According to The Guardian, "Amy Coney Barrett, the supreme court nominee, signed off on an advertisement in 2006 that called for the overturning of Roe v Wade, and called the landmark abortion rights decision "barbaric" and a "raw exercise of judicial power". The two-page ad, published by the St Joseph County Right to Life group, an extreme anti-choice organization in South Bend, Indiana, is the most striking evidence to have emerged to date of Barrett's personal opposition to Roe v Wade. The Guardian first reported the existence of the advertisement, which Barrett has not disclosed in documents submitted to the Senate ahead of her confirmation hearing." [Guardian, 10/1/20]
Amy Barrett And Her Husband Signed An Ad For St. Joseph County Right To Life That Stated "We … Oppose Abortion On Demand And Defend The Right Life From Fertilization To Natural Death." [South Bend Tribune, 1/21/06]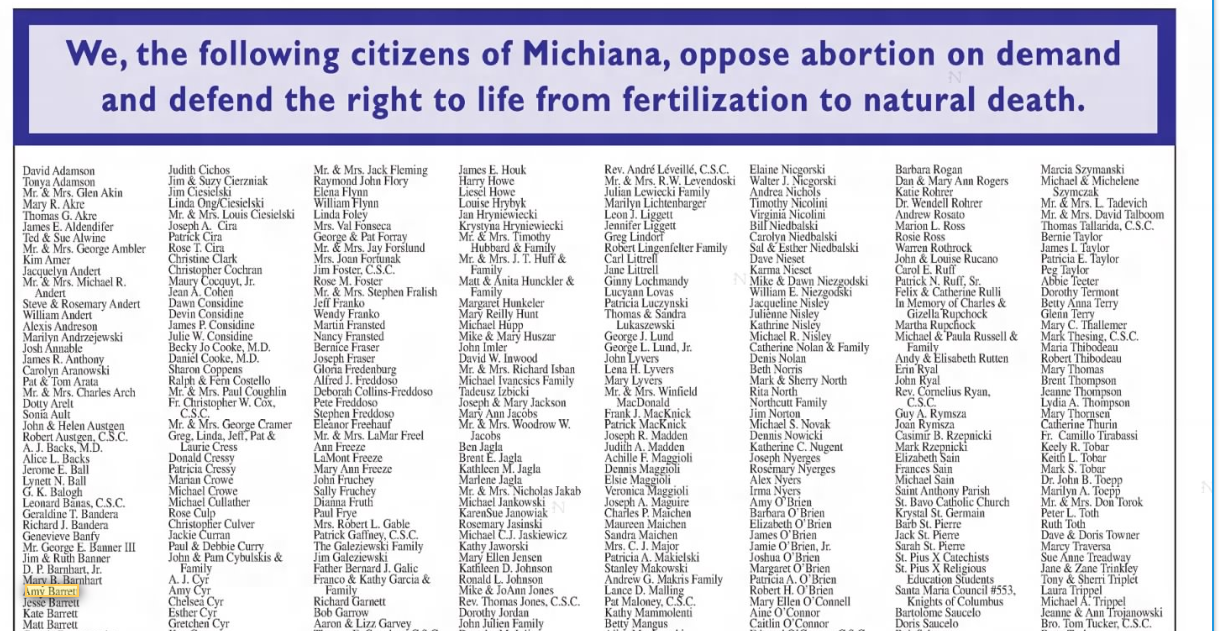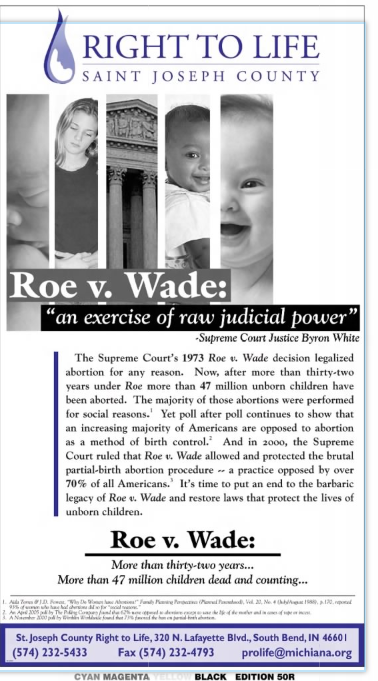 Barrett Included 2013 Anti-Roe Ad From Her Time As Member Of Faculty To Life At Notre Dame That "Reaffirm[ed] Our Full Support For Our University's Commitment To The Right To Life." According to supplemental disclosure, "When I was a full-time faculty member at Notre Dame Law School and a member of the University Faculty for Life, my name appeared in an advertisement sponsored by that group in the student newspaper. To the extent that advertisement is responsive, I have provided a copy of that advertisement as an attachment. [...] Question 12.b. University Faculty for Life and the Notre Dame Fund to Protect Human Life, Paid Advertisement, Jan. 22, 2013. Copy supplied." [Supplemental Disclosure, 10/9/20]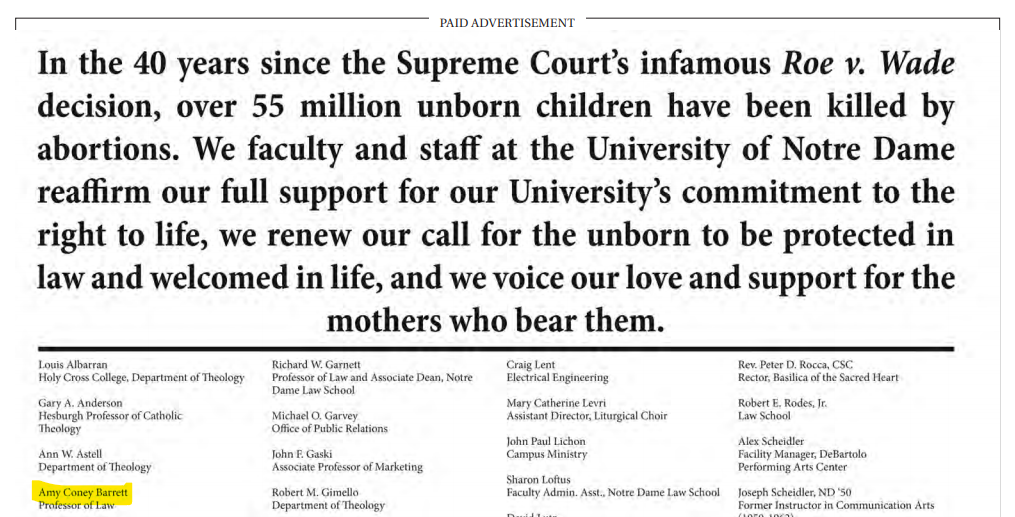 Barrett Was Required, Per The Senate Judiciary Questionnaire, To List The "10 Most Significant Litigated Matters Which [She] Personally Handled;' She Listed Only Three Cases. According to NBC News, "Barrett was required, per the questionnaire given to court nominees, to list the '10 most significant litigated matters which you personally handled, whether or not you were the attorney of record' and to 'describe in detail the nature of your participation.' Barrett lists just three cases." [NBC News, 10/9/20]
Barrett Did Not Include Her Work As One Of Two Lead Attorney's Defending A Steel Magnate Accused Of Driving A Major Pennsylvania Hospital System Into Bankruptcy. According to NBC News, "U.S. Supreme Court nominee Amy Coney Barrett did not include on her Senate Judiciary disclosure forms a notable case in which she was one of two lead attorneys: defending a Pittsburgh steel magnate accused of helping drive a major Pennsylvania Hospital System into bankruptcy. Coney Barrett, whose experience as a practicing attorney is limited to about two years beginning in 2000, worked on the case for at least six months beginning in June of 2000, according to court documents in Pacer, a database of electronic court records." [NBC News, 10/9/20]
The Case Barrett Failed To Disclose Involved One Of The Largest Nonprofit Bankruptcies In U.S. History, At $1.5 Billion And Spurred Numerous Investigations. According to NBC News, "The case was ultimately settled as part of a separate civil suit in which she was not listed. Yet it involves one of the largest nonprofit bankruptcies in U.S. history, at $1.5 billion, which prompted numerous investigations including a criminal probe." [NBC News, 10/9/20]
¶ Barrett's Failure To Disclose The Substantial Case Prompted Questions And Criticisms Over Whether Her Full Record Has Been Transparent
There Was No Reason To Omit The Case Given The Significant Length Of Time She Appeared To Have Worked On It Relative To Her Brief Time As A Practicing Attorney. According to NBC News, "Given her limited experience as a practicing attorney, it wouldn't be usual to have such a short list, said Prof. Stephen Gillers of New York University, an expert in ethical rules and judges. Yet, there's also no reason to omit the case given the significant length of time she appears to have worked on it relative to her overall work experience as a practicing attorney. 'The fact that a client is for some reason disreputable would not impede her confirmation. Prominent firms represent disreputable people,' said Gillers." [NBC News, 10/9/20]
Barrett's Failure To Disclose The Case Led To Criticisms That Her Full Record Has Not Been Transparent Amid A Hastened Confirmation Process For A Lifetime Appointment. According to NBC News, "The omission is fueling criticism from Democrats about whether the candidate's full record is transparent amid a hastened confirmation process for a lifetime appointment to the nation's highest court. 'Donald Trump is trying to hide the real Amy Coney Barrett from the American people — her extreme positions on Roe v. Wade, her record of attacking the Affordable Care Act and now her significant involvement in the largest nonprofit bankruptcy in American history,' said Kyle Morse, a spokesman for American Bridge 21st Century, a Democratic research group that informed NBC about the case." [NBC News, 10/9/20]
Feinstein And Senate Judiciary Democrats Wrote Letter To Barrett About Press Reports That She Failed To Disclose Her Work In Tenet Health System Bankruptcy Case As Required By Question 17 Of The SJQ And Noted It Was "Highly Unusual For Any Judicial Nominee--Particularly A Supreme Court Nominee--To Decline To Identify Ten Litigated Matters In Response To Question 17." According to the letter, "Finally, press reports have also revealed that Judge Barrett failed to disclose to the Committee her legal work as one of two lead attorneys who defended a Pittsburgh steel magnate accused of orchestrating the bankruptcy of a major Pennsylvania hospital system. The case, Tenet Health System Philadelphia, Inc. v. Abdelhak, was the largest non-profit health care bankruptcy in the country at the time. Question 17 in the SJQ directs nominees to "[d]escribe the ten most significant litigated matters you personally handled, whether or not you were the attorney of record." Judge Barrett listed only three matters in response to Question 17 and, notably, omitted her involvement in the Tenet case. It is highly unusual for any judicial nominee – particularly a Supreme Court nominee – to decline to identify ten litigated matters in response to Question 17." [Senate Judiciary Democrats Letter, 10/11/20]